Scranton College Facilities
Facility Reservations
International Education Building(IEB) Room 702 and Room 1202 are available for school activities only. For availability, please visit our office at IEB 707 from Monday to Friday 9am to 5pm. A reservation form shall need to be filled out at the office.
Conditions
It is only permitted to reserve the room for maximum 3 periods at a time
Scranton College Students should constitute more than 1/2 of total participants of the activity.
Computer Lab
The computer lab(Rm. 703 at International Education Building) has 12 computers and one printer available for students from Monday to Friday 9am to 5pm. The lab is mostly closed during the vacation but can always be opened on request during the office hours.
How to buy a print card
Print cards (5,000 won) are available at Scranton office(IEB 707, cash only) or Ewha COOP(cash or credit card).
Locker Rentals
Each freshman of Scranton Honors Program(SHP) is able to use one locker on the first floor of International Education Building(IEB). Students who have already reserved lockers at other locations on campus such as the central library or ECC are not allowed to reserve an another one at IEB. When returning the lockers, students should vacate their lockers and bring the keys to the office.
All students of Division of International Studies(DIS) should apply for their lockers through DIS Student Council during the beginning of each semester.
Deposit
10,000 won (All students will receive the deposit back when returning the locker key)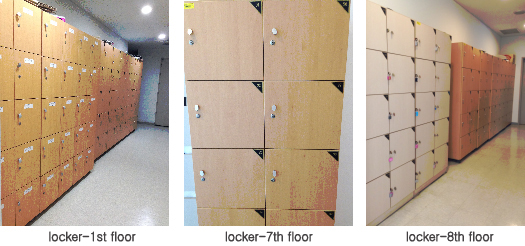 locker-1st floor
locker-7th floor
locker-8th floor
Reading Room
Reading Room(IEB 1203) is available for all students from Monday to Friday 9am to 5pm. It does not require a reservation process.